Christmas | Source: The Happy Campers 
Ladies and gentlemen, get ready to deck the halls, hang those mistletoes, and start checking off your holiday shopping list because the most wonderful time of the year has finally arrived! 
Yes, we're talking about the holiday season – the time of the year where you exchange gifts with your loved ones, spread love and cheer, and make unforgettable memories that will last a lifetime.
But with so many options out there, it can be overwhelming to find the perfect gift for that special someone. Fear not, for The Happy Campers are here to help! We've scoured the industry and partnered with some of the top brands in the cannabis world to bring you the ultimate Happy Campers Holiday Gift Guide for 2019.
From sleek vaporizers to trendy accessories, this guide has it all – and we mean it. With our expertise and knowledge of the cannabis industry, we've handpicked the best cannabis products of the year, so you don't have to go through the hassle of endless browsing and searching.
As the cannabis industry continues to grow and expand, we've seen an influx of new and exciting products, all designed to enhance your cannabis experience. This year, we've curated a practical gift guide to make your holiday shopping a breeze. Whether you're shopping for a seasoned smoker or a curious newbie, we've got you covered.
So sit back, grab a cup of hot cocoa, and let us take the reins. We promise to make your holiday shopping experience fun, easy, and stress-free. Trust us, your loved ones will thank you for it!
1) The Genius Pipe
If you're looking for an easy to use, sleek, portable, and reliable pipe then look no further than the Genius Pipe. This pipe is designed from high quality aluminum and is virtually indestructible. One of the best features of this pipe are the 2000+ dimples inside that cool the smoke and collect excess tar to create a pleasurable, cough-free smoking experience.
The Genius Pipe |  Source: The Happy Campers
2) The Neon Lightning Peak from Puffco
A pioneer in vaporizer technology specific to concentrates, Puffco's Neon Peak is a great tool to pass around at a kickback or even take with you for dabs-on-the-go. With a team of designers perfecting engineering since its origins in 2013, PuffCo is designed to pack advanced technology in an application, providing for clean, pure and potent oil sessions.
The Neon Lightening Peak | Source: The Happy Campers 
3) Magical Butter Machine
For those who love to cook with cannabis are are looking for a cleaner, more simple way to infuse their oils, butters, or tinctures, they will surely appreciate this appliance. The
Magical Butter Machine
is simple device for making herbal infusions that can be used for cannabis butter, tinctures, oils, salves and even lotions.
Magical Butter Machine | Source: The Happy Campers
4) How To Smoke Pot (Properly)
As cannabis culture grows and the art of consuming becomes more sophisticated, it is still important to understand the basics. For new cannabis consumers that would like some extra help to ease them in, David Bienenstock's classic book "How To Smoke Pot (Properly)" is an informative introduction to the comprehensive history, etiquette, and culture of cannabis use.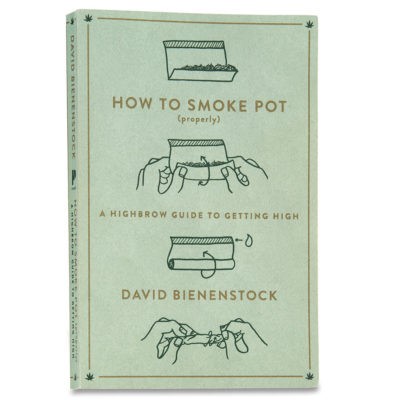 How to Smoke Pot Properly | Source: The Happy Campers
5) Air Vape X
The sleek and minimally designed Air Vape X is equipped with 100% ceramic parts. It features an ultra thin design measuring in at around 0.5″ inches, adjustable auto off, exact temperature adjustment, and it even vibrates when it is ready. Don't be nervous about taking it this powerful vape with you outdoors. It includes a handy "X Shell", a one-of-a-kind accessory that makes the Air Vape smell-proof and even water-resistant.
Air Vape X | Source: The Happy Campers
6) Volcano Classic Vaporizer
This timeless invention from Storz & Bickel will probably be on every cannabis holiday gift guide for the next 10 years. Making it super simple to use, the Volcano Classic Vaporizer is perfect for someone who wants to experience cannabis without the smoke. Not to mention how beautiful it is. You can just set it on their coffee table, invite over some friends, and shave a great time. A tried and true classic that comes packed with everything you need for to keep it clean and in working order.
Volcano Classic Vaporizer | Source: The Happy Campers
Always remember that this isn't the time to start handing out the usual gifts. Use this cannabis holiday gift guide to give the cannabis lover in your life something to remember. 
The Happy Campers Holiday Gift Guide for 2019 is your go-to guide for the best cannabis products of the year.

We've partnered with top brands in the industry to bring you a practical gift guide that will make your holiday shopping a breeze.

Get your loved one a genius pipe

The neon lightning peak is a great gift for a stoner 

How about a magical butter machine for delicious brownies 

A "How to Smoke Pot Properly" guide makes a great gift

Get your pal an air vape X

Last but not least, a classic volcano vaporizer!
For all of your latest cannabis news, follow The Happy Campers on Instagram and Twitter.