Local Cannabis Supporters | Source: The Happy Campers 
Are you wanting to get more involved in the cannabis community but you are not sure how? We've got 7 easy ways for you to connect with local cannabis supporters. 
The power of local marketing is crucial. Local marketing is a powerful strategy that propels highly focused techniques to connect with cannabis supporters in your local area. Neighborhood or local store marketing is a great approach for dispensaries and local cannabis businesses. 
Since there are restrictions for selling products online, local marketing is the go to way for marketing your legal cannabis business.
1. Get Involved With Your Community
This is the easiest way to know with the people of your area. Customers are constantly online searching for nearby businesses. If you don't have a strategy in place, you could lose out to the competition.
Here are just a couple of things you can do to get involved with your community:
Sponsor local sports teams or clubs
Promotion through the local chamber of commerce

Customize direct mail announcements and promotions
Sites like Yelp and Google Reviews are great platforms to interact with your community. Identify the review sites being used by your target customers. Urge your customers to share their experience online by writing reviews. Also offer promotions for check-ins, which are spectacular ways to incentivize customers to come into your shop.
2. Rank for Local Keywords
In order to succeed with a successful local marketing campaign, you'll need to incorporate organic SEO. Your cannabis business needs to implement the keywords that people are using in search of the services and products that you offer.
You need to understand how the hierarchy of search engine results pages works. When a customer searches for a cannabis business in your area, there are local results followed organic. Local search marketing involves increasing your dispensaries visibility with local SEO.
3. Use Social Media to Your Advantage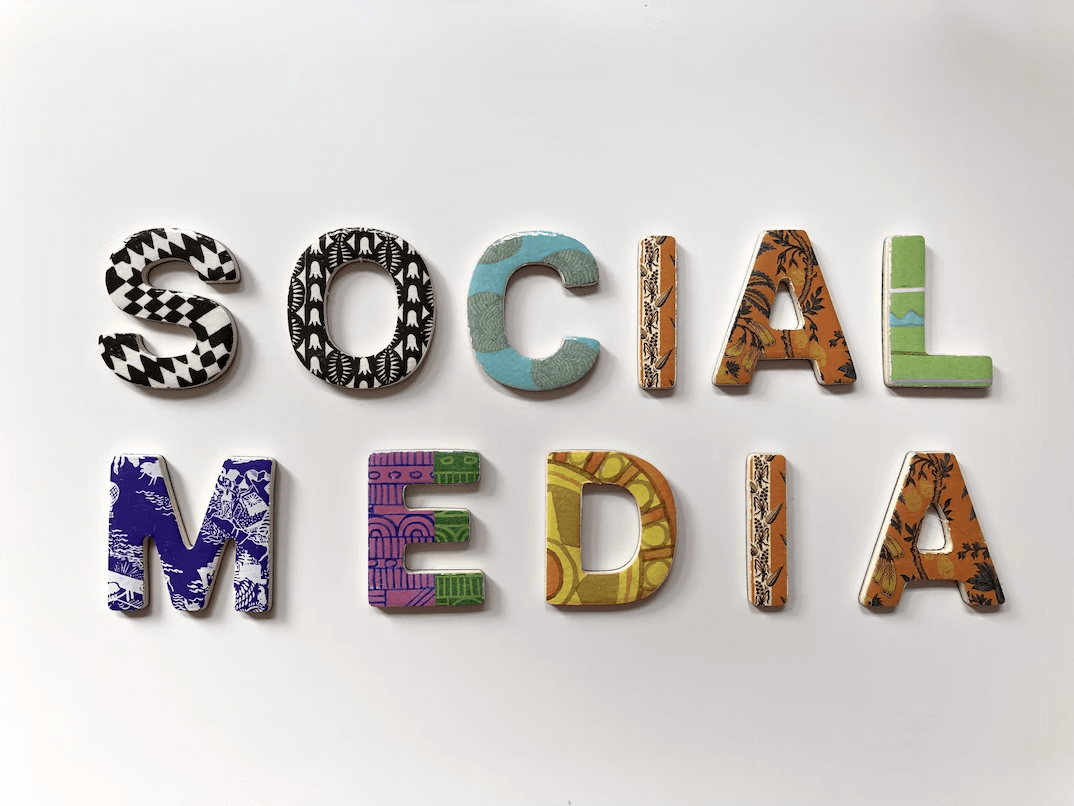 Social Media | Source: Unspalsh
In today's digital age, social media is a powerful tool for connecting with local cannabis supporters. 
By creating engaging content and building a community online, you can attract new customers and build brand loyalty. Make sure to engage with your followers on a personal level and offer valuable information that they can't find elsewhere.
4. Partner with Other Local Businesses – Let Your Imagination Run Wild!
Do you want to expand your reach and get your name out there? Partnering with other local businesses can help you do just that! The possibilities are endless when it comes to forming partnerships. Think outside the box and don't be afraid to get creative!
Find businesses that share your values and target audience. Partnering with a café or a yoga studio, for example, can be a great way to connect with health-conscious customers. Consider collaborating on a promotion or hosting an event together. You could offer a discount to customers who visit both your business and your partner's business, or even co-host a cannabis-infused yoga class!
Partnering with a local dispensary or cannabis business can also be beneficial. You could offer each other's products or services, or cross-promote on social media. Host a joint event or sponsor a local sports team together. Get your name out there and let your imagination run wild!
By partnering with other local businesses, you not only connect with the local cannabis community but also expand your customer base. It's a win-win situation for everyone involved. So, get out there and start brainstorming your next partnership.
5. Attend Local Meetups and Networking Events
Social Networking | Source: Unsplash
Attending local cannabis-related meetups and networking events is a great way to connect with like-minded individuals and build relationships. 
These events can give you the opportunity to network with other cannabis business owners and enthusiasts, and learn about new developments in the industry. Make sure to bring business cards and be prepared to talk about your business and what sets you apart.
6. Offer Discounts and Promotions
Offering discounts and promotions is a great way to attract new customers and build loyalty with existing ones. 
Whether it's a first-time customer discount or a loyalty program, incentives can help you stand out in a crowded market and build a loyal customer base. Make sure to promote your discounts and promotions on social media and other marketing channels.
7. Volunteer at Cannabis-Friendly Events
Are you a lover of all things cannabis and want to get more involved in the community? Why not volunteer at cannabis-friendly events in your area? Not only will you get the chance to connect with like-minded individuals, but you'll also get the opportunity to gain valuable experience and knowledge in the industry.
Networking Nirvana: Connect with Attendees and Volunteers
Volunteering at cannabis events is a great way to meet new people and make connections. You'll be surrounded by passionate and knowledgeable individuals who share your love for cannabis. 
By connecting with attendees and other volunteers, you can build relationships that could lead to future business opportunities or friendships.
Stay Up-to-Date with Industry Trends
The cannabis industry is constantly evolving, and staying up-to-date with the latest trends and developments can be a challenge. 
By volunteering at cannabis events, you'll have a front-row seat to the latest and greatest in the industry. You'll get to see new products, hear from industry experts, and learn about the latest research and studies.
Find Your Passion and Purpose
Volunteering is not just about giving back to the community, it's also about finding your passion and purpose. 
You'll have the opportunity to explore different areas of the industry and find out what you're truly passionate about. Whether it's working with patients or advocating for cannabis legalization, volunteering can help you discover your purpose in the industry.
Key Takeaways! 
Connecting with the local cannabis community can be a fun and rewarding experience.
Volunteer at cannabis-friendly events to meet like-minded individuals and stay up-to-date on industry developments.

Forming partnerships with other local businesses can expand your reach and connect you with new customers.

Social media is a powerful tool for promoting your business and engaging with your community.

Local SEO can help your business rank higher in search engine results and attract more local customers.

Don't forget to get involved with your community by sponsoring local events and clubs or purchasing ad space.

By following these easy ways to connect with local cannabis supporters, you can grow your network and form lasting relationships.
Remember to always stay informed, be creative, and have fun! Connecting with the local community is a duty that every cannabis supporter should uphold with pride. By following these steps you can form bonds that will last a life time with like minded individuals. Come back to The Happy Campers for all your latest cannabis news and findings.