It's no secret that smoking marijuana can be a bit of a drag. You have to wait for it to be ready, then you have to find somewhere private, and then you have to light a joint or bowl. But if you're a cannabis connoisseur, you might want to take note: dabbing is the new smoking weed.
Dabbing is an alternative method of consuming cannabis concentrates (sometimes called "dabs") that involves heating up the concentrate with a small blow torch and inhaling the vapor through a special tool called a rig. It's fast, easy, and more efficient than other methods—and it's much less harmful than smoking traditional joints or bowls.
If you're looking for a way to try dabbing out without committing fully to using your rig every day… or if you just want something new in your life… check out our review of G Pen Connect Vaporizer!
G Pen Connect Vaporizer Review
The G pen connect is one of the absolute best ways to dab in 2023. This piece of advanced technology is the next step in the evolution of consuming cannabis. So long are the days of having to carry around a torch and waiting to heat your dab nail. The G Pen Connect allows you to take fresh, clean, delicious dabs in seconds. In this review, I will go over everything you need to know about the G Pen Connect. By the end of this review, you should have a good idea of if this product is right for you.
The G Pen Connect is a member of the Grenco Science (more commonly referred to as "G Pen") a family of products. Well known for the flexibility of their products, Grenco Science is changing the vaporizer game once again with the G Pen Connect. Grenco Science is a company founded by Chris Folkert. They have a long line of high-quality products as well as a multitude of high-name celebrity partnerships.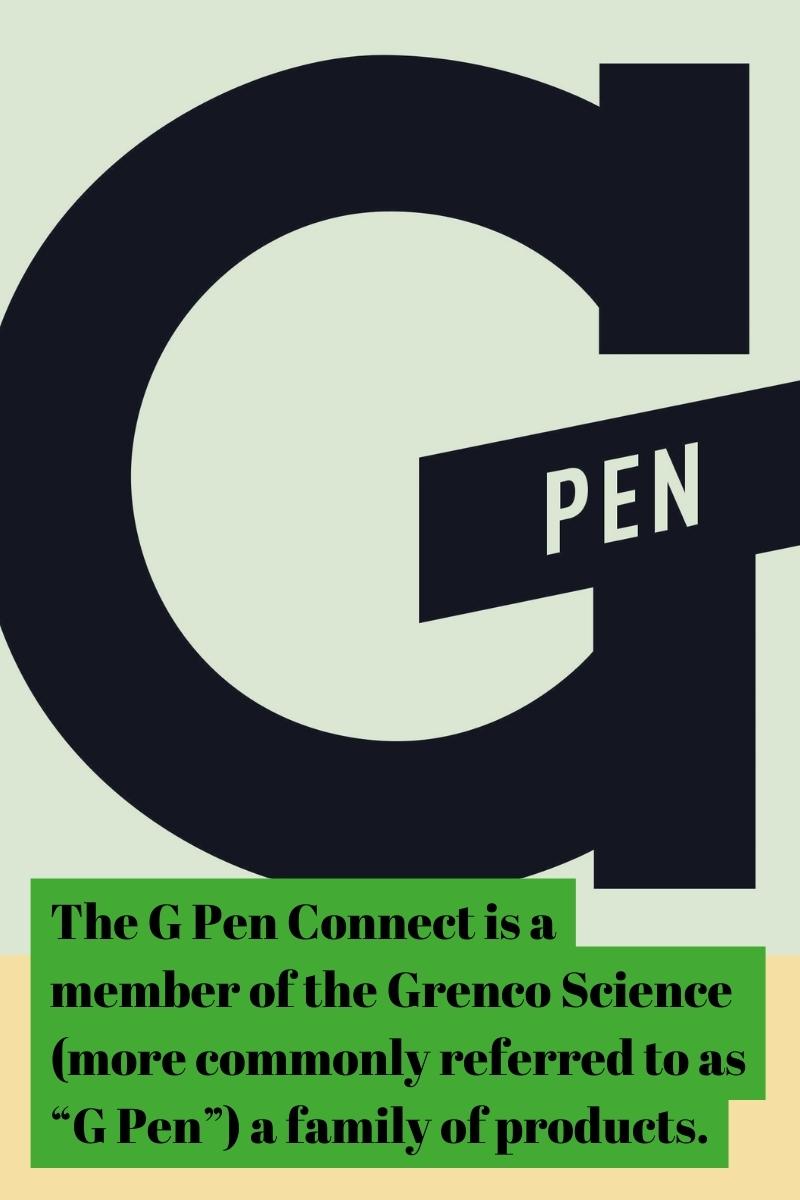 Along with plenty of accessories and merchandise, their primary product line consists of the Gio, Pro, Elite, Nova, and Connect. They have had a deal with cannabis community legend Snoop Dogg, they also have a relationship with Bay Area icon Berner. There is even a special edition G Pen Connect x Cookies crossover version that comes in the signature cookies baby blue. They even make prefilled dab tanks specifically for the g pen connect which can be seen on both the official G Pen and Berner instagram pages.
Design and features
The engineering behind the G Pen Connect is very modern, clean, and durable. It comes in a sleek matte black finish and has a tough metal exterior. The battery is a little bit bulky for something that sits on the side, making it somewhat unbalanced, but that is only a minimal drawback for this great piece of technology.
An 850 mAh battery has plenty of life to last for a while and charges fairly quickly as well in about an hour. It connects magnetically to the base piece and the cover of the ceramic bowl is magnetic as well so that is another plus. Because the bowl is ceramic this also makes for an extremely clean and flavorful hit. The only true button on this device takes up one side of the battery which keeps things simple. There is also a carb release button which replaces a carb cap and allows for more airflow and a cooler hit.
The carrying case fits all the necessary components you would need, it even has a round spot that you can put your concentrate in. However, you would still need some type of water pipe to connect it to so it is not as portable as a vaporizer you can put in your pocket. A more accurate comparison would be to a portable e-rig, but assuming you already have some type of bong or rig of some sort to connect this piece to, this product is going to be a lot cheaper than any of the more popular portable e-rigs on the market.
Assuming you have some type of bong or rig and some cannabis concentrate, you will have all you need for a great dabbing experience. This product is only compatible with concentrates, not flower.
The Unboxing Experience
1x G Pen Connect Battery

1x G Pen Connect Tank

1x G Pen Connect Housing

1x G Pen Connect Male Glass Adapter (14mm)

1x G Pen Connect Male Glass Adapter Connector

1x Micro USB Charging Cable

3x Replacement O Rings

1x Carrying Case
How to Use the G Pen Connect
To turn the Connect on, press the button on the battery 5 times — you press it 3 times to switch between heat modes, and once you have your desired heat mode you press the button 2 times. From there the "G" light will flash while it is heating up and then hold solid once it is good to go.
Blue is the lowest setting at 3.1 volts. Green is the middle setting at 3.6 volts, and Red is the highest setting at 4.1 volts. The color settings allow you to customize your dabbing experience to your personal liking in ways that simply are not possible with a torch.
The blue setting allows you to conserve more of your concentrate and take more flavorful rips. The red setting allows for milky hits with thicker clouds. The green setting falls in between. For the the brave of hearts, or brave of lungs I should say, you can even hold down the button for 15 seconds to use the manual heating option to take a huge rip, if you got it like that.
Once you have the pattern of button presses down, this is a very simple product to use. Just hit it like you would normally hit a rig or a bong.
Adding the G Pen to Your Arsenal
Grenco Science has always produced advanced technology for the cannabis community and the G Pen Connect continues that trend.
And overall, this is one dope piece of cannabis technology. We remember the high school days and smoking out of coke cans rigged to hit like a pipe — our OG Campers now understand the struggle. Now you can take perfect dabs with a couple presses of a button. It is also easy to clean and maintain as you only need to clean the ceramic bowl. You would clean this the same way you would clean most pieces, with a cotton swab and alcohol.
The G Pen connect checks just about every box you could ask for in a portable e-nail for your rig. The ease of use, performance, battery life, and smoke quality are all A+'s. If you love taking tasty dabs, but are tired of dealing with harshly overheated nails, carrying around that big bulky blue torch, or having to buy butane all the time, the G Pen Connect is the product for you.
Come back to The Happy Campers for all of your latest cannabis news and findings.