You may have heard of psilocybin, but do you know what it is? And, is everything you've heard true? Can psilocybin really help with mental health? Glad you asked Campers, let's get into it! 
Psilocybin, also known as magic mushrooms, is a naturally occurring psychedelic compound produced by certain types of fungi.
But wait—what does even that mean? 
Psilocybin is a naturally occurring psychedelic compound that has been used for thousands of years by humans to induce altered states of consciousness. It has been used for centuries in traditional indigenous medical and spiritual practices, and more recently, it has gained attention for its potential therapeutic benefits.
One of the most promising areas of research on psilocybin is its ability to treat depression and anxiety. Several studies have shown that a single high dose of psilocybin can lead to significant and lasting improvements in mood and anxiety symptoms in people with treatment-resistant depression. Psilocybin may work by increasing neural plasticity, or the brain's ability to reorganize and form new connections, which may help to alleviate the negative thought patterns associated with depression.
So why should we care? Because scientists think they might be able to use psilocybin to treat mental health problems, like depression, anxiety, addiction and more!
Can Psilocybin Help With Mental Health?
In a small pilot study, a single dose of psilocybin, combined with psychotherapy, significantly reduced alcohol dependence in a group of individuals with alcohol use disorder. Another small study found that psilocybin-assisted therapy was effective in reducing tobacco addiction in individuals who had been unable to quit smoking through other means.
In addition to its potential therapeutic benefits, psilocybin has been shown to have positive effects on personality and behavior. A study conducted at Johns Hopkins University found that a single high dose of psilocybin increased openness, or the willingness to try new things, in a group of healthy volunteers. This increase in openness persisted for up to a year after the initial psilocybin experience.
What Happens To Your Mind On Magic Mushrooms?
The term "psilocybin" comes from the Greek words psilos (bare) and kubein (to cover), which refers to the cap of the mushroom. Psilocybin affects the brain by binding to serotonin receptors in the neocortex and limbic system. It also alters the brain's default mode network, which is associated with self-referential thought processes, like depression and anxiety.
Research into magic mushrooms' therapeutic benefits started in the 1950s. Originally explored as potential treatments for mental health conditions like anxiety disorders and schizophrenia. However, these studies halted in 1966 due to their association with recreational use.
Psilocybin mushrooms have been used for centuries in religious ceremonies around the world. They were also used for religious purposes by several cultures, including Mesoamerican and South American Indian tribes. They are still used for spiritual or religious purposes today. But unfortunately are still illegal in many countries because of their hallucinogenic properties.
In the last few years, psilocybin has been researched as an alternative treatment for mental health conditions such as depression and anxiety. A recent study showed that psilocybin has similar effects on the brain as antidepressants. 
If you're interested in learning more about your brain on magic mushrooms, check out our article on how to trip with psilocybin!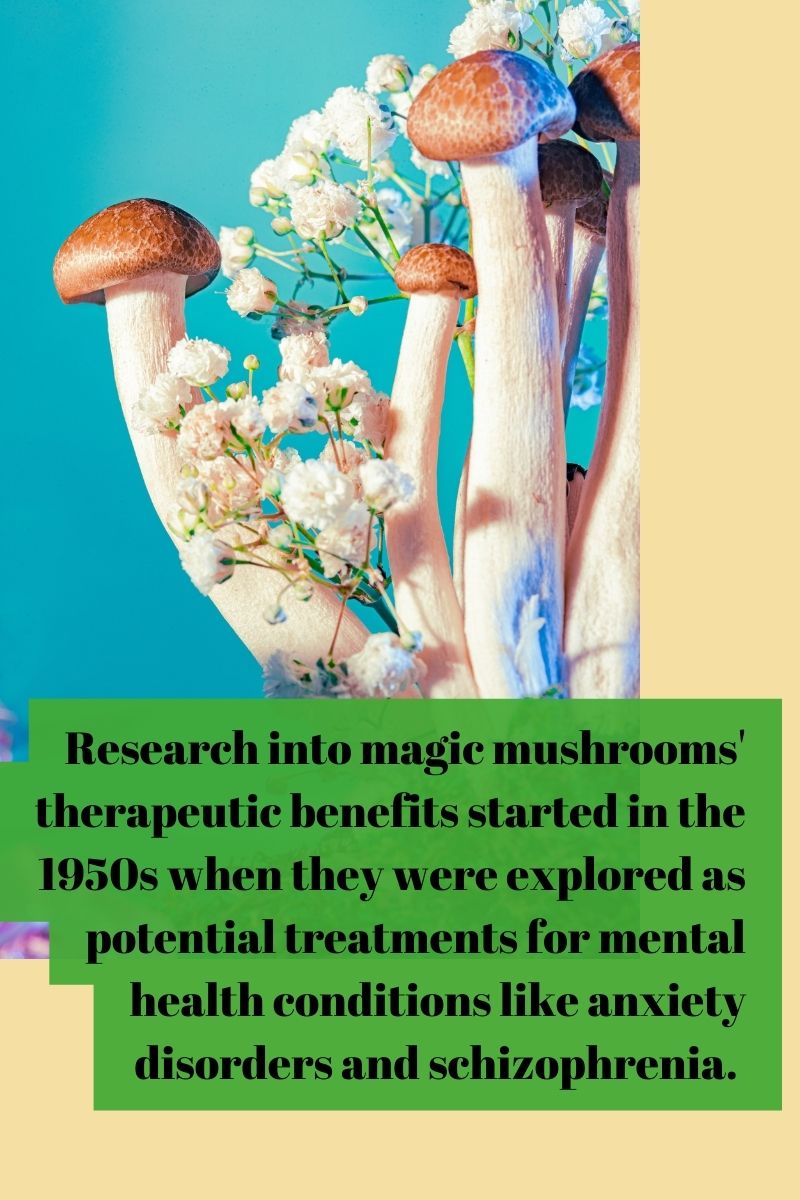 Mental Health Benefits of Psilocybin
May reduce symptoms of anxiety and depression
Can ease feelings of anxiety and fear in cancer patients
May relieve symptoms of OCD, and other disorders
Can help patients overcome addition
May result in a spiritual awakening or ego-death
Promotes empathy, imagination, creativity, and more
Can increase brain neuroplasticity
So, can psilocybin help with mental health?
Yes, psilocybin can help with mental health.
It can be extremely helpful for people suffering from depression. As well as other mental health conditions like PTSD and OCD. The drugs that are currently available for dealing with these mental health issues have a lot of side effects and are often not very effective. Psilocybin mushrooms are much less invasive, and they can be effective in treating PTSD-like symptoms like flashbacks, nightmares, and depression.
Although the research on psilocybin is still in its early stages, results so far are promising. Results suggest that it may have a real role in the treatment of a variety of mental health conditions. However, it's important to note that psilocybin is a potent compound. So, treat it with caution. Use under the supervision of trained medical professionals. And, keep in mind that it is not recommended for use outside of a controlled medical setting.
Psilocybin research and its therapeutic effects are still in their infancy, but there's plenty of reason for optimism. Further research is needed to fully understand its effects and potential therapeutic uses. But, the early results are encouraging! Psilocybin has real promise as a potential treatment for depression, anxiety, addiction. As well as a plethora of other mental health conditions. 
If you or someone you know is looking for help with mental health issues, consider reaching out to a therapist or doctor who might be able to offer guidance on what types of treatment might be right for you!
For all of your latest cannabis news, follow The Happy Campers on Instagram and Twitter. And, let us know what you thought about our beginner's psilocybin trip guide below (link above!).